Regular price
$14.99 USD
Sale price
$14.99 USD
Unit price
per
Sale
Sold out
FREE SHIPPING ON ORDERS OVER $50.00
Our Pollen Honey Tonic is a delicious and unique formula, designed to support seasonal respiratory health. We have included organic stinging nettle leaf and use bee pollen from the Pacific Northwest collected from beekeepers all over the Willamette valley, to ensure a wide range of plant pollen in every bottle. We then ferment the bee pollen mixture in a small amount of honey, following the honeybees' own recipe for consuming bee pollen.
Ingredients:
Raw Pacific Northwest honey, raw apple cider vinegar*, stinging nettle leaf* (Urtica dioica), fermented Pacific Northwest bee pollen.
*certified organic

Available sizes:
4 oz. glass bottle
8 oz. glass bottle
Suggested Use:
We suggest taking a spoonful of Pollen Tonic once daily. Spoonful size can be anywhere from 1 teaspoon to a tablespoon, depending on your preference and sensitivity to pollen. For those who wish to decrease their sensitivity, we suggest taking the smallest teaspoon dose to start.
Serving Size:
Ages 12-adult: 1 teaspoon – 1 Tablespoon
Ages 6-11: 1 tsp.
Ages 1-6: 1/2 tsp
**Warning: Do not give honey to children under 1 year of age**
Servings per bottle:
4 oz. - 24 teaspoon (8 Tablespoon) size servings
8 oz. - 48 teaspoon (16 Tablespoon) size servings
Flavor Profile:
Pollen Honey Tonic is sweet like honey and has a delicious sour zing from the apple cider vinegar. Our fermented bee pollen and stinging nettle leaf both add a sweet and unique flavor. The texture is thick and syrupy, and raw honey coats and soothes the throat.

Other Info:
Mickelberry Gardens Pollen Honey Tonic is a RAW oxymel – made with local raw honey and raw apple cider vinegar. Hippocrates promoted using vinegar mixed with honey as both an energizing tonic and a healing elixir. When honey is kept raw, it retains all of its healing virtues and preserves the delicate flavors from millions of wildflowers. Raw apple cider vinegar is rich with vitamins, antioxidants, enzymes, and probiotics, and helps to jump-start digestion.
Our Pollen Honey Tonic is made using the highest quality ingredients available. All our honey and certified organic apple cider vinegar is sourced from regional producers. We only purchase the freshest, whole organic herbs - often direct from local farmers. Our honey is tested for purity, and all our herbs are screened carefully for quality and strength.
We make all our products with strict attention to quality. Our facility is certified GMP-compliant, and is free of all major allergens, including gluten.
These statements have not been evaluated by the Food and Drug Administration. This product is not intended to diagnose, treat, cure, or prevent any disease.
Share
View full details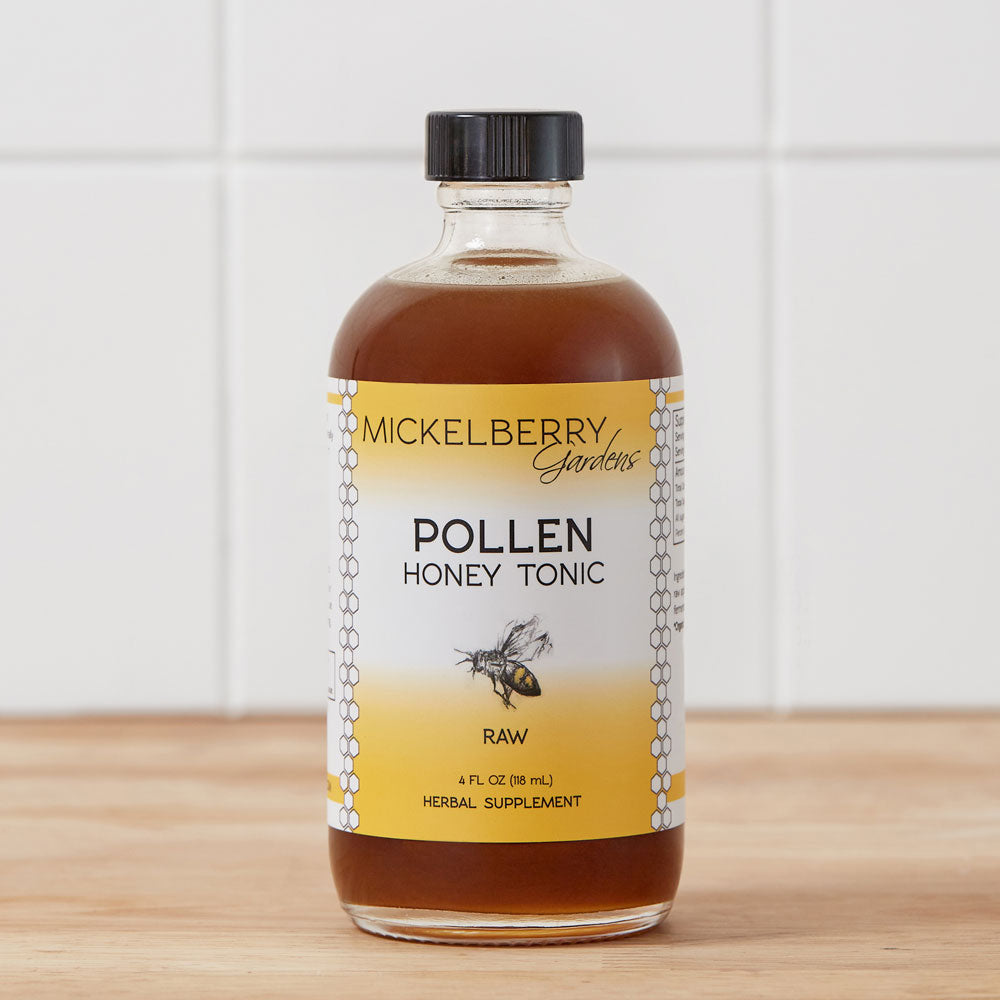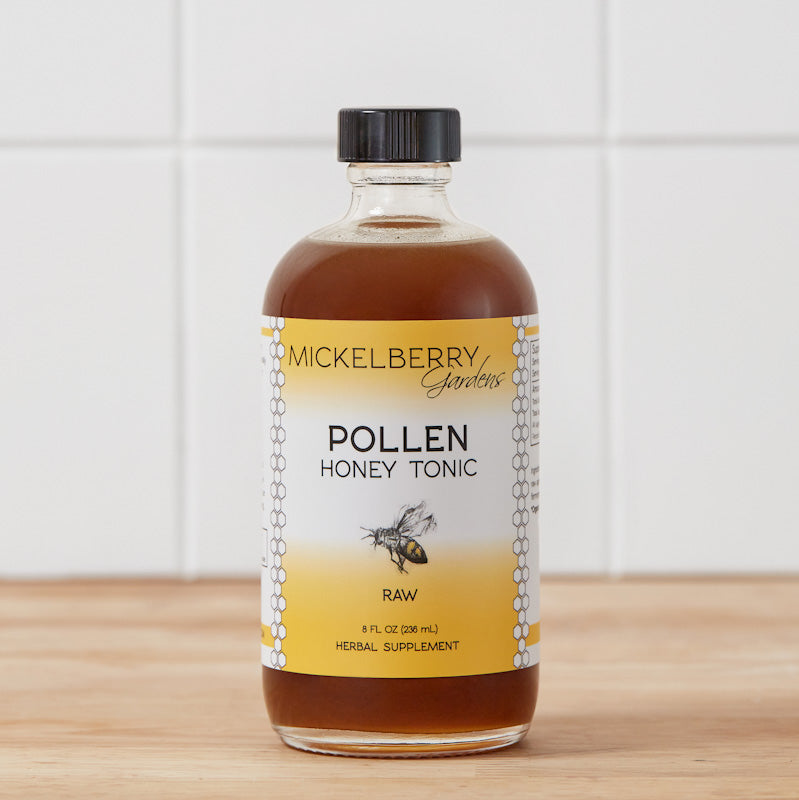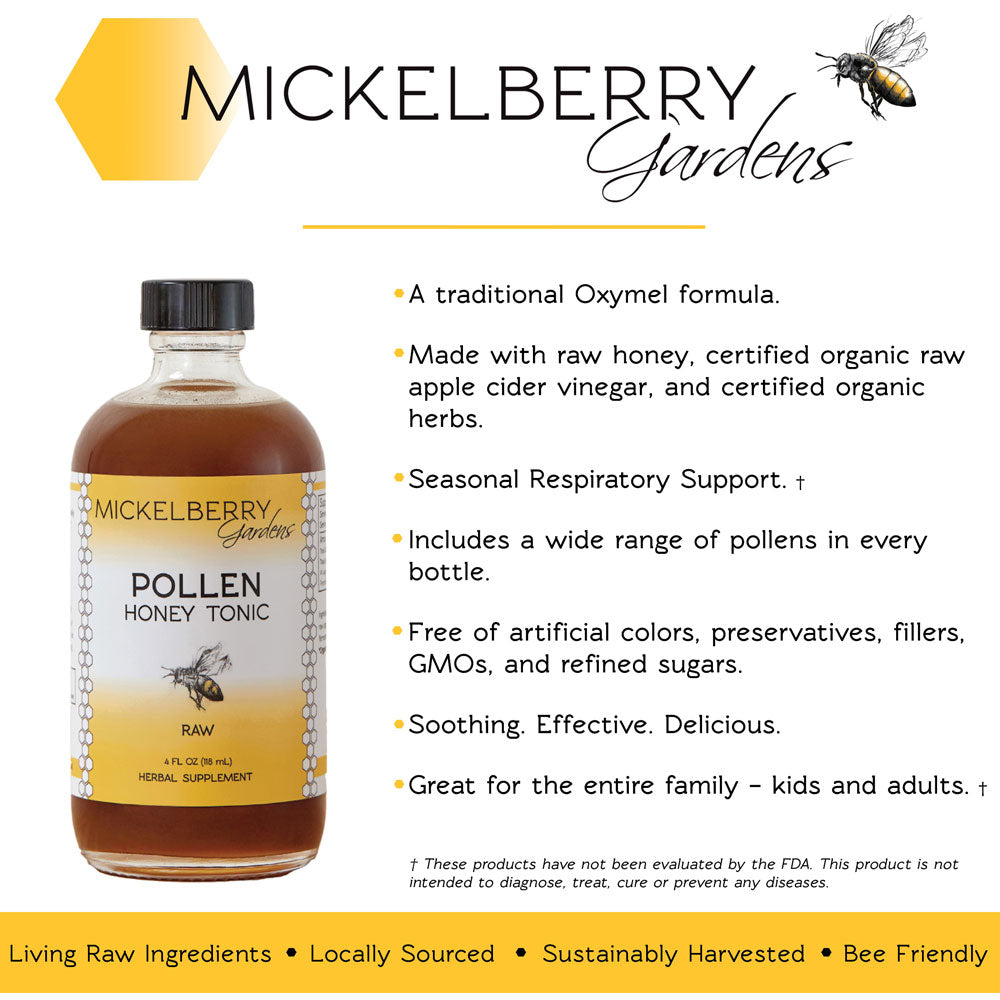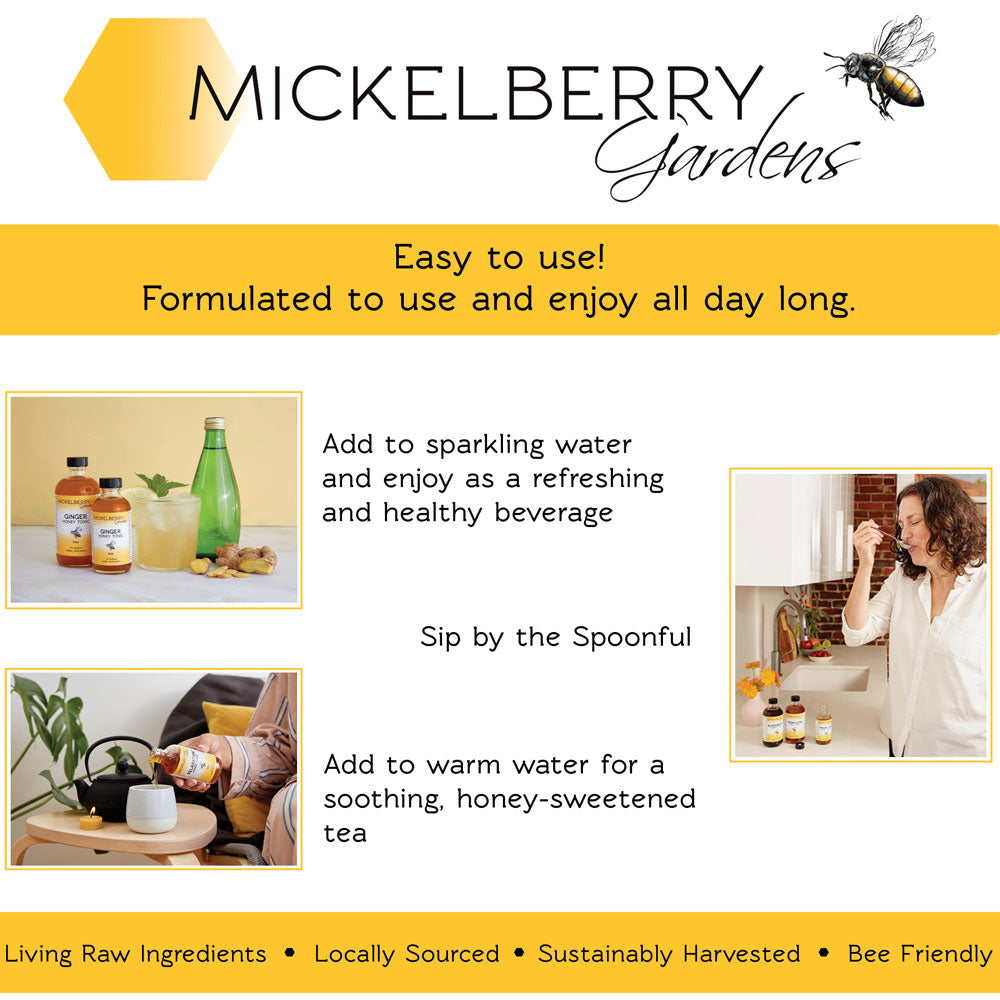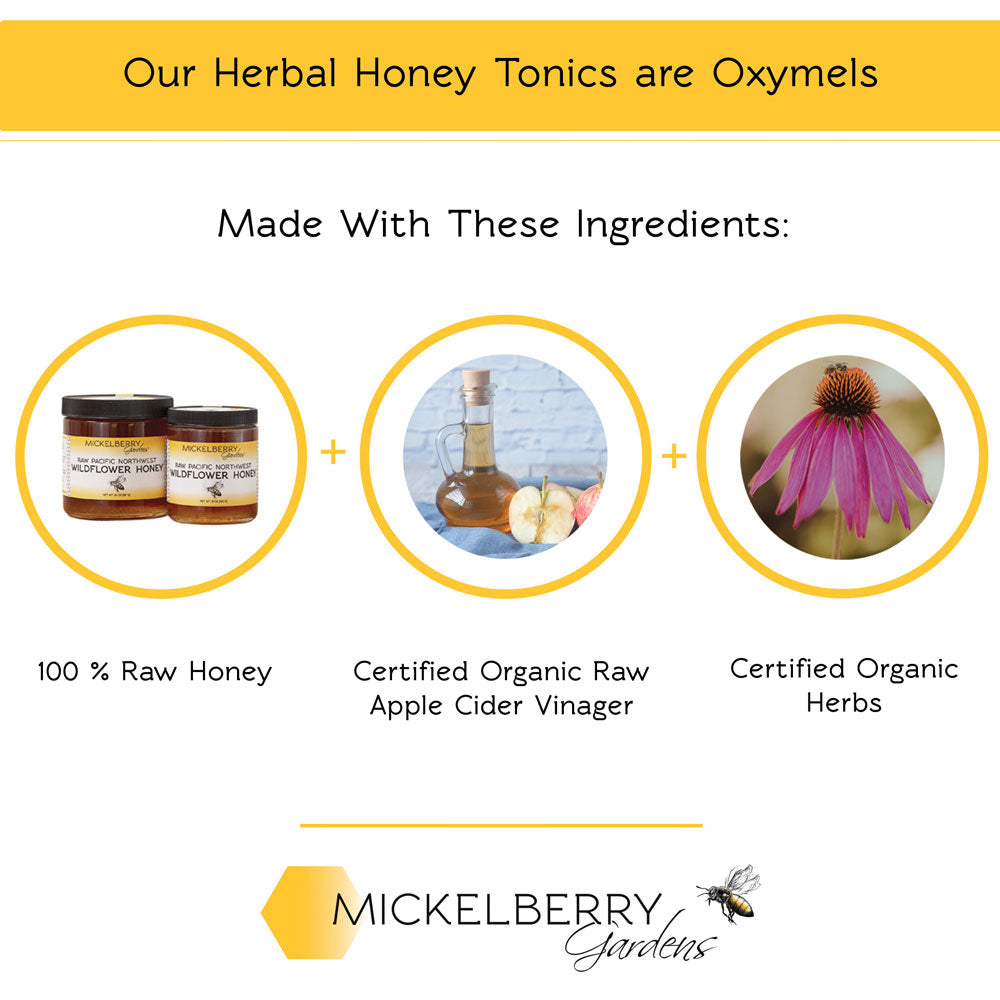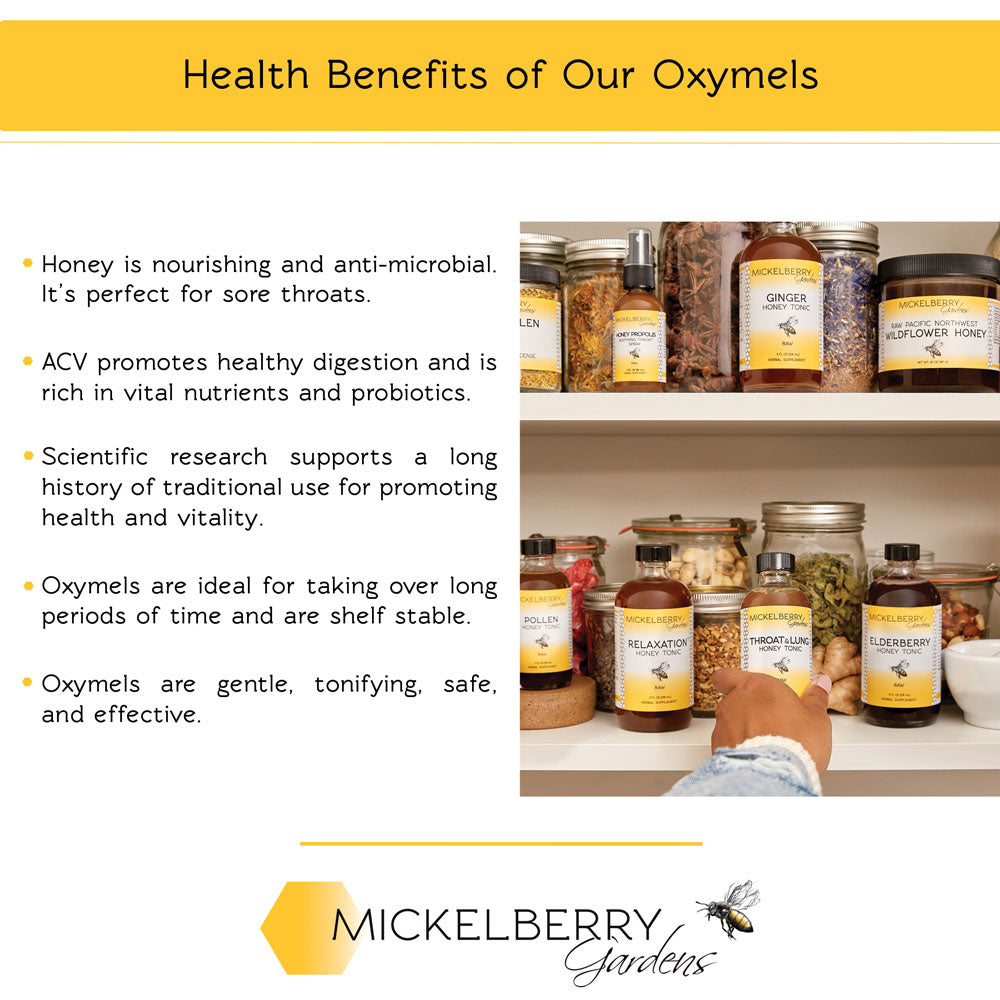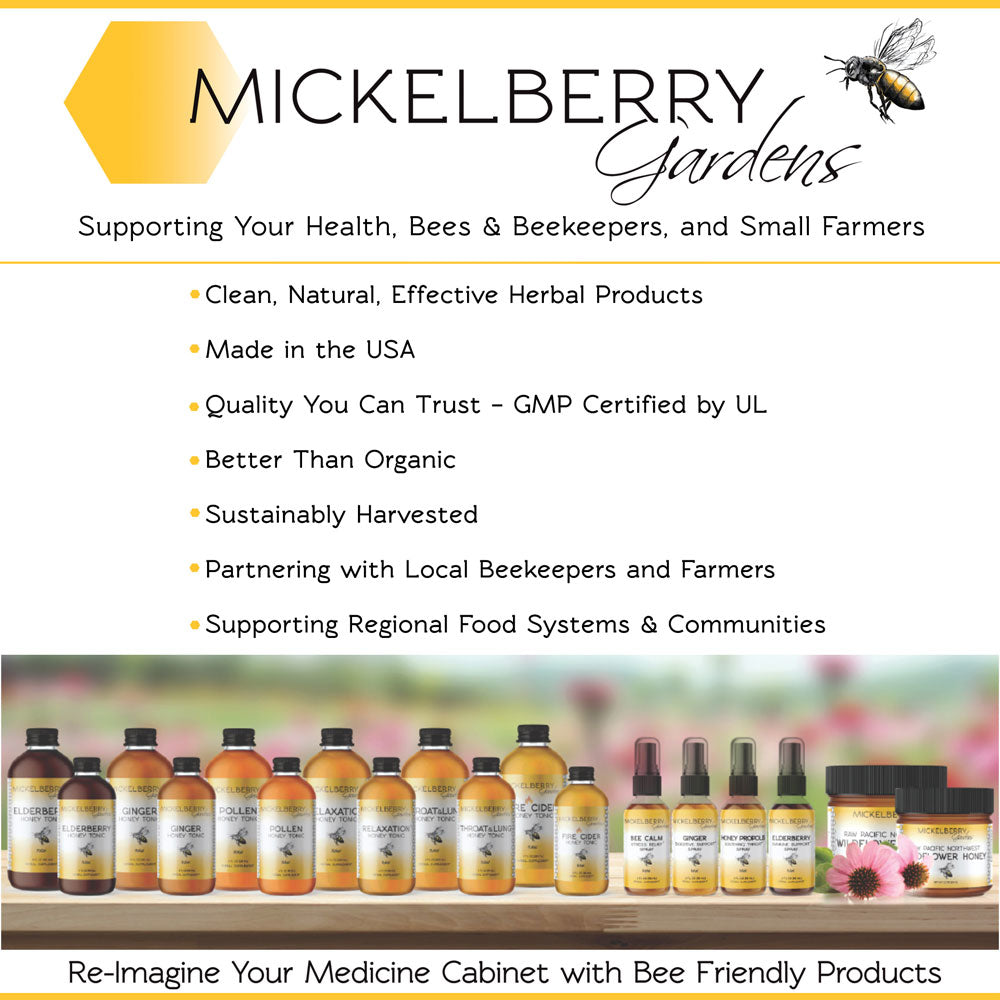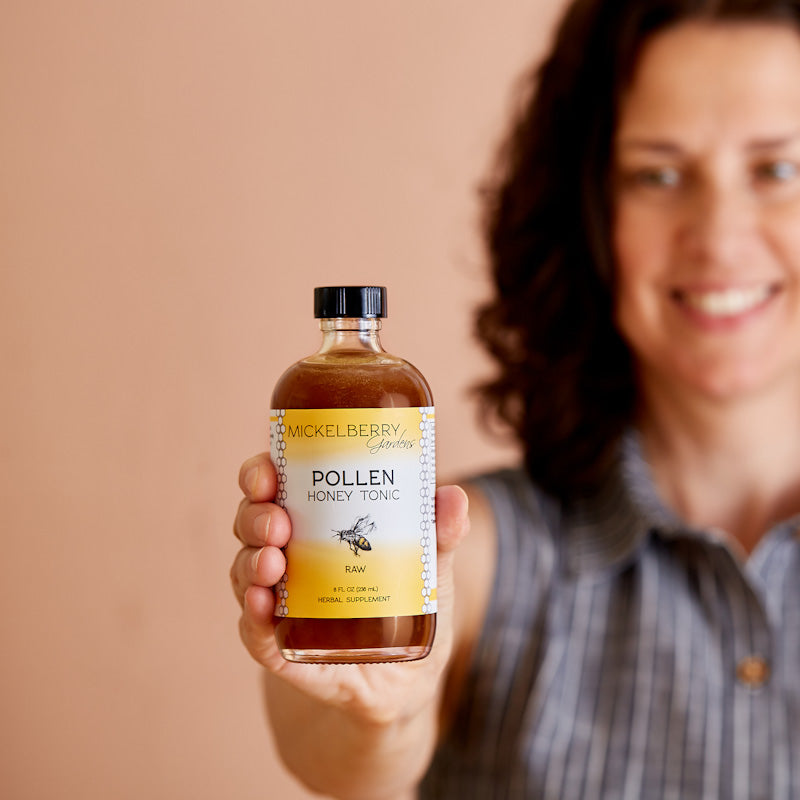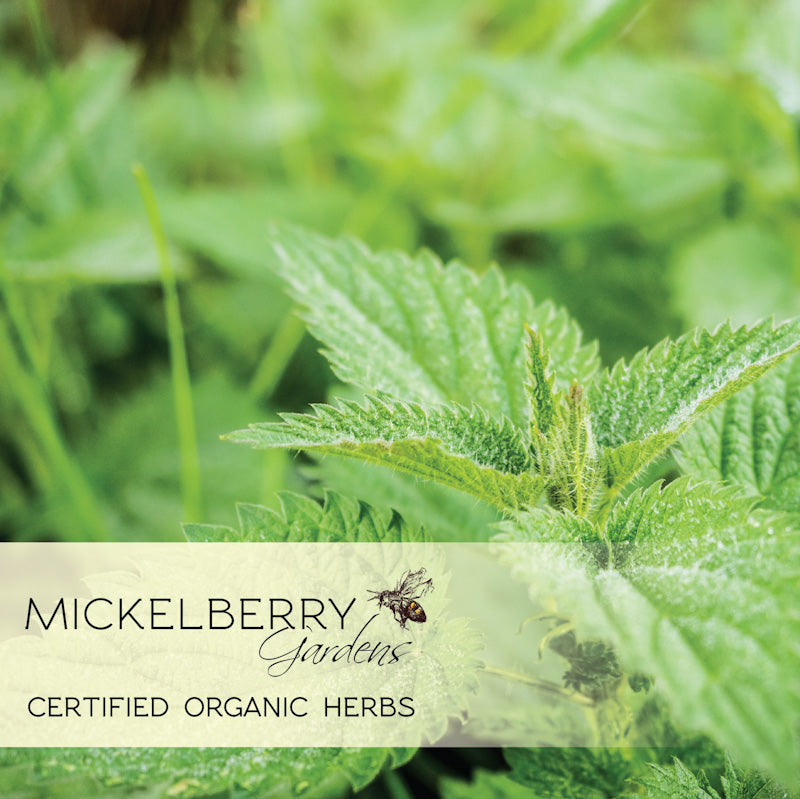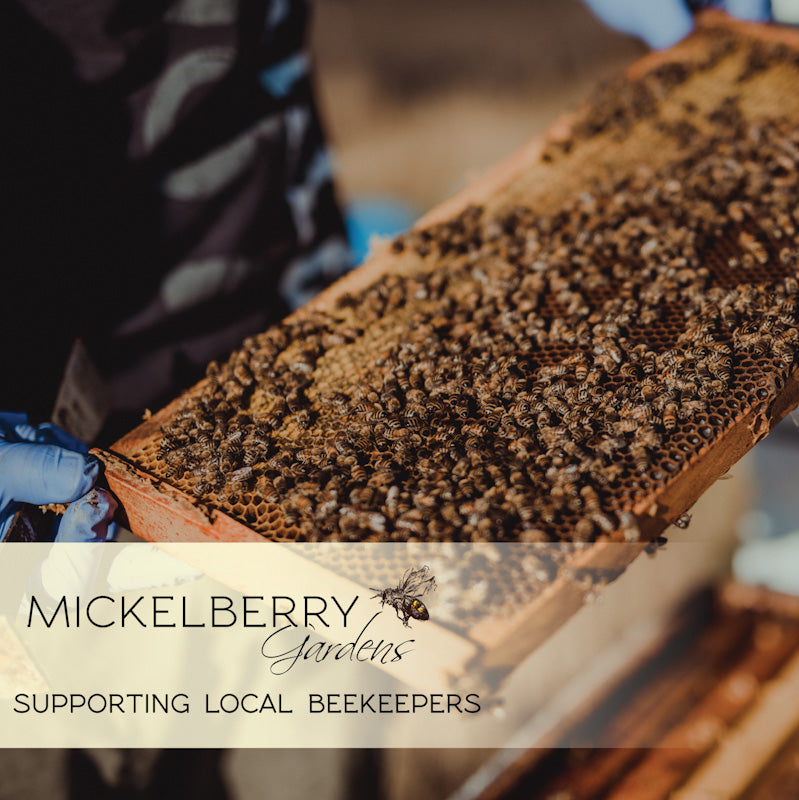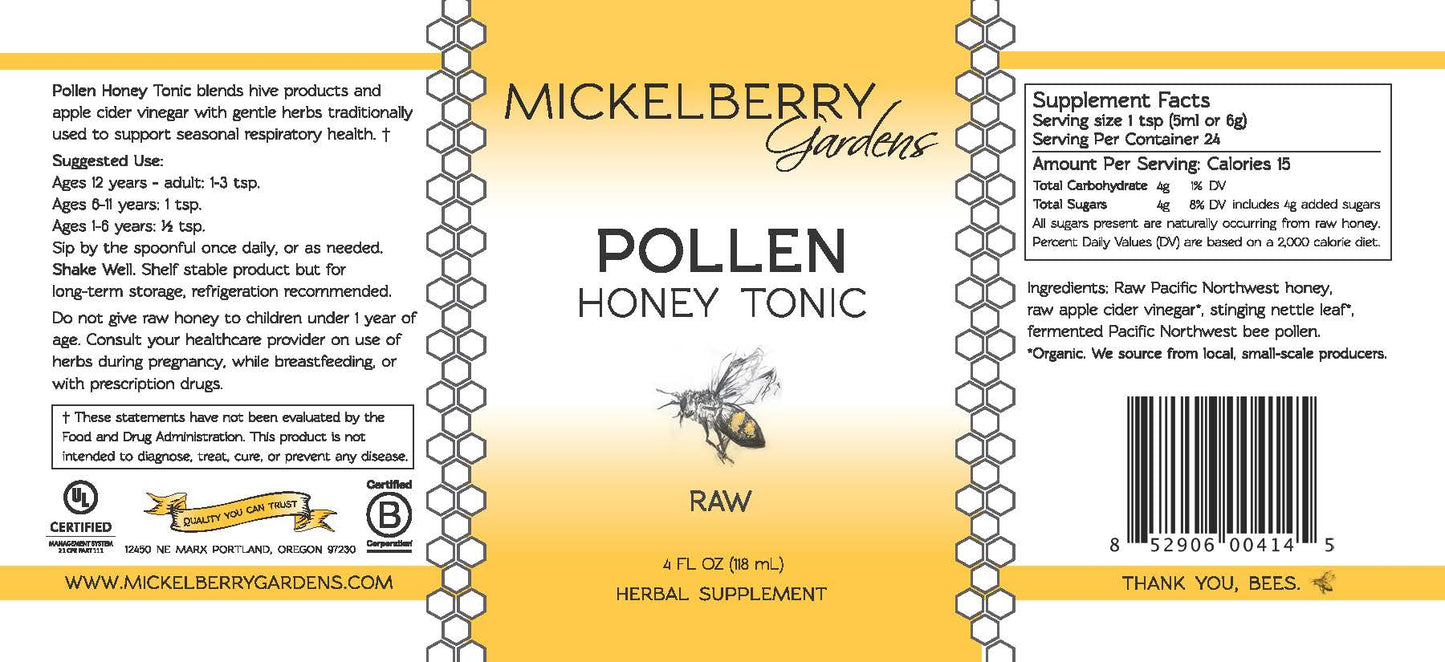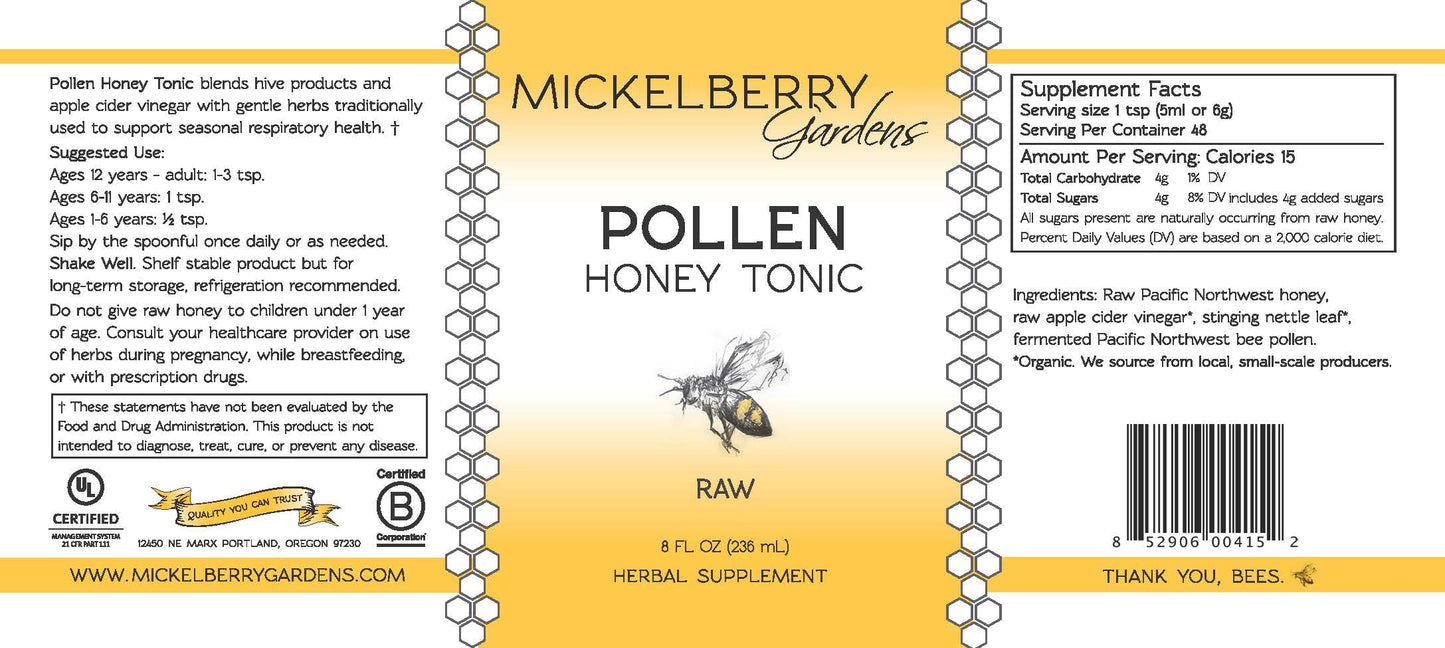 Love local Mickleberry produvts
I use HONEY PROPOLIS SOOTHING THROAT SPRAY when my voice sounds like "SQUAWK" due to allergies. I also use ELDERBERRY IMMUNE SUPPORT SPRAY off and on all summer. Just started taking POLLEN HONEY TONIC. I am older and feel like these products boost my immune system. I have had lots of days in the garden and less shuttered in the house the last few years.
The folks are nice to deal with too.
Five Years Allergy Free 🙏🏻🙏🏻🙏🏻
I recommend this amazing tonic to everyone, the results are phenomenal. Thank you so much for the relief! And it's delicious too! You guys are a gift! 💝
Honey tonic
My wife and daughter introduced me to your product. Very different from regular honey but I really enjoy the taste. I suffered damage to my immune system many years ago and have been taking honey to help my system. Your honey is so much better, I really love the different taste and texture. Great in my morning coffee. Thanks so much.
Beyond expectation
I'm on my second bottle! I wasn't sure it was working until I stopped taking it, and then all my headaches, itchy eyes and sneezing came back. If you need help with allergies don't even wait to get a bottle of this sweet magic!
Pollen Honey Tonic
This is really helping with the pollen allergies this spring. Having a local honey and bee pollen is a great idea. And the cider vinegar cuts the sweetness. And, thanks, for having a discounted price on your website. I found this originally at New Seasons for $11. Although I knew it was helping, that price is a bit too steep to make it through the season. Well done.