Regular price
$15.99 USD
Sale price
$14.39 USD
Unit price
per
Sale
Sold out
FREE SHIPPING ON ORDERS OVER $50.00
Our Propolis Tincture is sourced from select, trusted beekeepers who keep hives throughout Willamette Valley in Oregon. Research has shown Propolis to be a broad-spectrum anti-microbial, anti-fungal, and anti-biotic. It can be used externally as an anti-infective, and internally for immune system support.
Ingredients:
Pacific Northwest Propolis, gluten free alcohol distilled from cane sugar*.
*certified organic
Available Sizes:
1/2 oz glass amber bottle with dropper

Suggested Use:
Propolis tincture can be used internally, or externally.
The most palatable way to take propolis tincture internally is to add a few drops to a spoonful of honey or one of our tonics, and swallow. On it's own propolis tincture is very strong - to take internally straight, we recommend dropping it towards the back of your throat and swallowing.
Be cautious not to get propolis on your clothing - it will stain! It can also temporarily stain your teeth.
Other Info:
Propolis is made by honeybees, who gather sticky resins from plants. They use it to seal the interior of the hive, and it's also how they prevent infection and disease from spreading in the colony. Propolis is considered to be anti-microbial, anti-fungal, anti-viral, and anti-bacterial.
We make all our products with strict attention to quality. Our facility is certified GMP-compliant, and is free of all major allergens, including gluten.
These statements have not been evaluated by the Food and Drug Administration. This product is not intended to diagnose, treat, cure, or prevent any disease. 
Share
View full details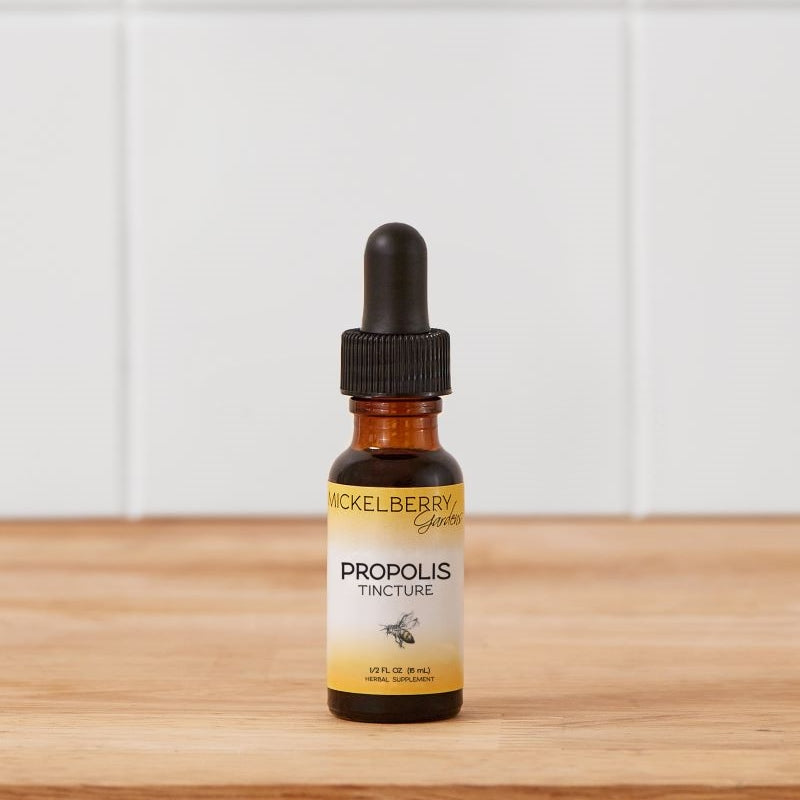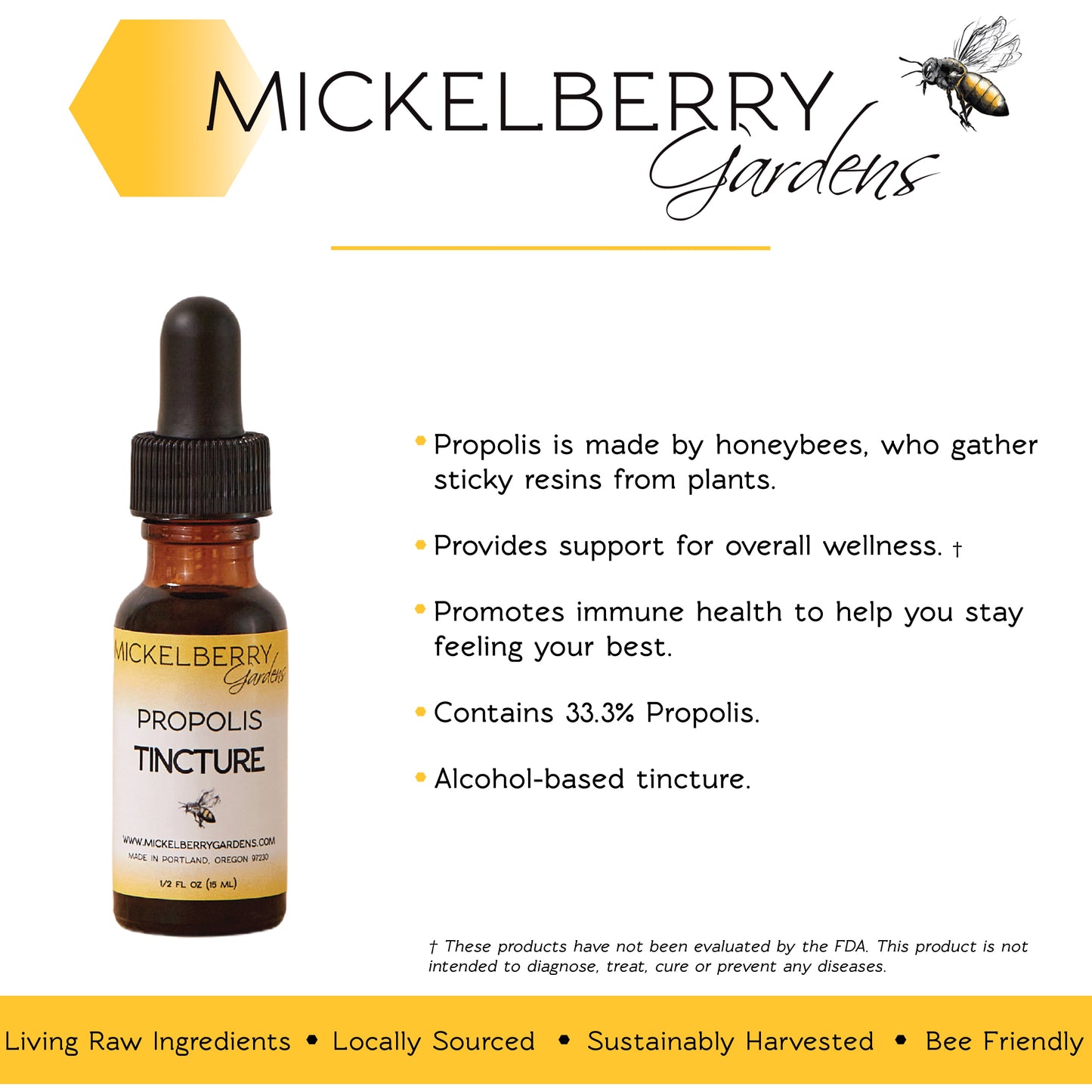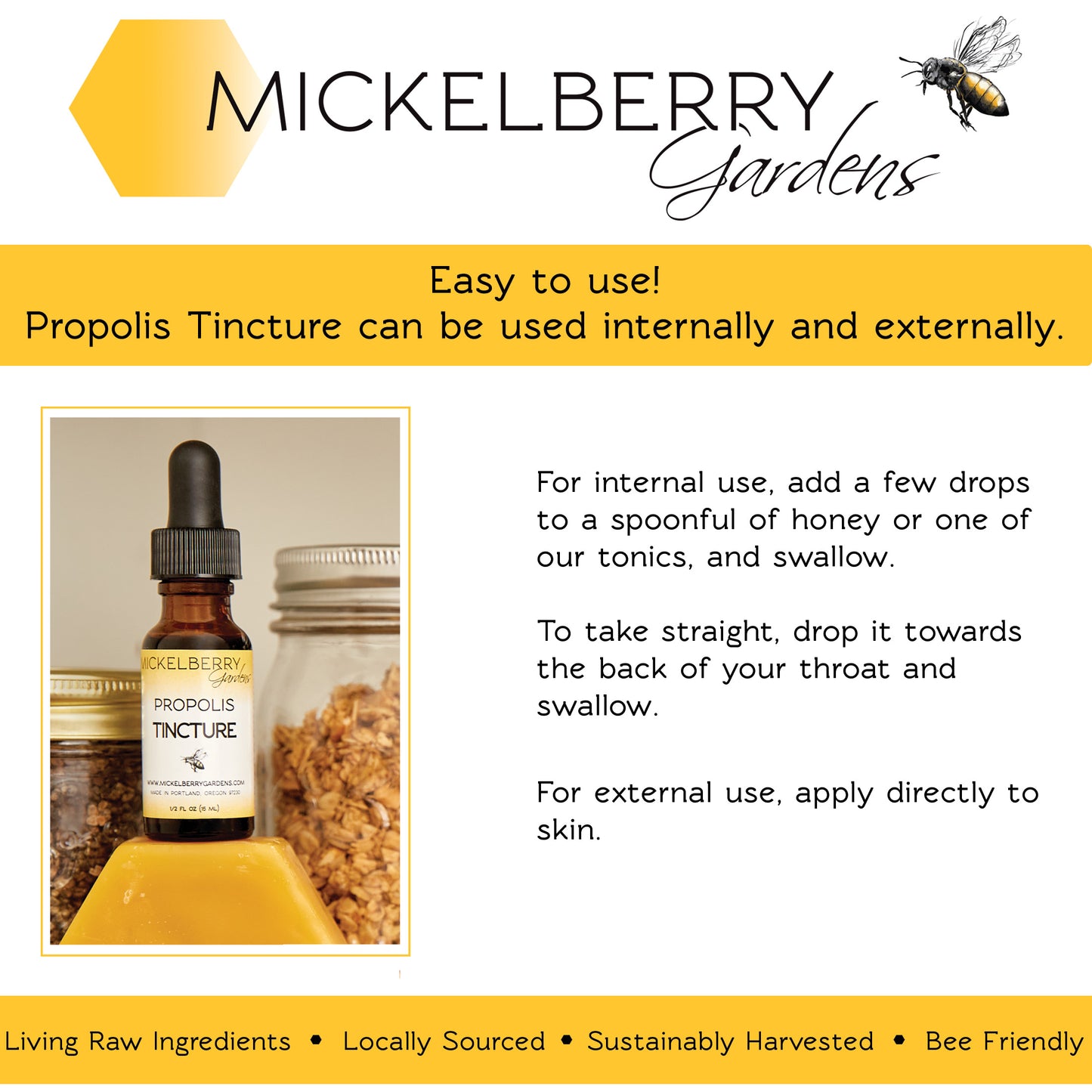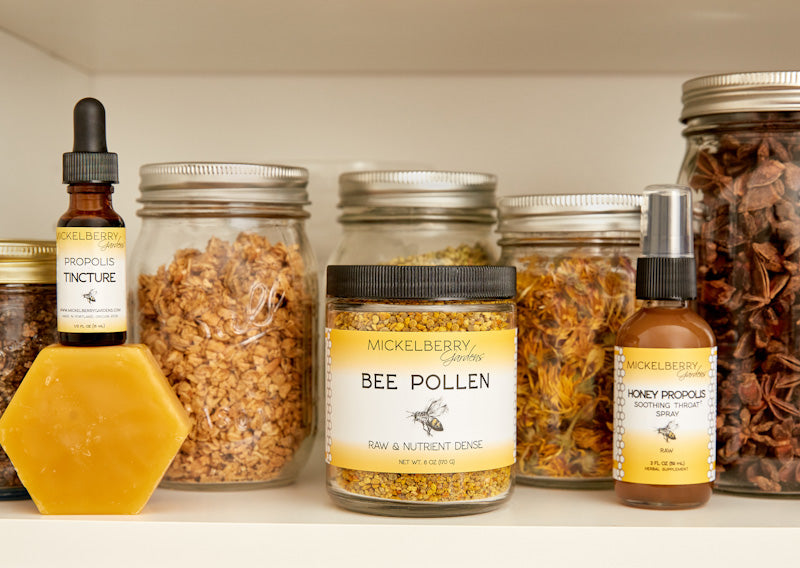 Breathing easy
I love using Mickleberry products. I haven't taken a single allergy pill this season. My secret? A spoonful of Mickleberry Pollen Honey Tonic mixed with Propolis in the morning and another spoonful of Honey Propolis (different than above named product) and Elderberry Immune Support Spray, all Mickleberry products.
I wonder if I need so much product but it all is delicious.
The people are great too.
Sue Pitts
Sue Pitts
Beyond Incredible
Wow - is this a cure all? In my household that is a yes! Maybe the Windex of My Big Fat Greek Wedding but I use this to address weird growths, scratches, or other strange and unexplainable things and the body does its magic in response to introducing Propolis.
Excellent stuff
This propolis is the best. How can anyone live without it?
Any sign of a cold and I zap my throat with this. It works.
Thank you for making it!
Unorthodox Use
I have been using the propolis tincture twice a day on my toenails to try and get rid of toenail fungus. After 2 weeks of use I believe it is working. It seems to penetrate the nail unlike other products I have tried. I have also used it on cuts and believe it accelerates the healing process.
Mighty bee glue
I am so happy to have stumbled upon this wonderful company while searching for a trustworthy source of propolis. Long story short I recently decided to implement propolis into my gut healing protocol upon reading about its powerful benefits. Loving all the other products as well. Consider me a customer for life!