Regular price
$14.99 USD
Sale price
$11.99 USD
Unit price
per
Sale
Sold out
FREE SHIPPING ON ORDERS OVER $50.00
Mickelberry Gardens Relaxation Honey Tonic is a delicious blend of hive products and gentle herbal remedies traditionally used to promote relaxation. This blend of honey and herbs is also a wonderful digestion tonic. Raw honey is known to have a relaxing, sedative effect on the body, and the herbs we have included are known for promoting a calm state of mind. A few spoonfuls in the evening leading up to bedtime can help to ease tension, stress, and anxiousness. It also may help with restful sleep.
Ingredients:
Raw Pacific Northwest honey, raw apple cider vinegar*, passionflower* (Passiflora incarnata), lemon balm* (Mellisa officinalis), chamomile (Matricaria chamomilla), skullcap (Scutellaria lateriflora), essential oil of lavender* (Lavandula officinalis).
*certified organic
Available sizes:
4 oz. glass bottle
8 oz. glass bottle
2 oz. glass bottle with spray top
Suggested Use:
Take Mickelberry Gardens Relaxation Honey Tonic by the spoonful as needed. It's lovely at the end of the day to help unwind.
You can also add Relaxation Honey Tonic to warm water, tea, or sparkling water.
Serving Size:
Ages 12-adult: 1 teaspoon – 1 Tablespoon
Ages 7-11: 1 tsp
Ages 1-6: 1/2 tsp
**Warning: Don't give honey to children under 1 year of age.
Servings per bottle:
4 oz. - 24 teaspoon (8 Tablespoon) size servings
8 oz. - 48 teaspoon (16 Tablespoon) size servings
Flavor Profile:
Relaxation Honey Tonic is sweet like honey, and has a delicious sour zing from the apple cider vinegar. It has a delicious herbal flavor, with a hint of lavender. The texture is thick and syrupy, and provides a relaxing effect almost immediately.
Other Info:
Mickelberry Gardens Relaxation Honey Tonic is a RAW oxymel – made with local raw honey and raw apple cider vinegar. Hippocrates promoted using vinegar mixed with honey as both an energizing tonic and a healing elixir. When honey is kept raw, it retains all of its healing virtues and preserves the delicate flavors from millions of wildflowers. Raw apple cider vinegar is rich with vitamins, antioxidants, enzymes, and probiotics, and helps to jump-start digestion.
Our Relaxation Honey Tonic is made using the highest quality ingredients available. All our honey and certified organic apple cider vinegar is sourced from regional producers. We only purchase the freshest, whole organic herbs - often direct from local farmers. Our honey is tested for purity, and all of our herbs are screened carefully for quality and strength.
We make all of our products with strict attention to quality. Our facility is certified GMP-compliant, and is free of all major allergens, including gluten.
These statements have not been evaluated by the Food and Drug Administration. This product is not intended to diagnose, treat, cure, or prevent any disease.
Share
View full details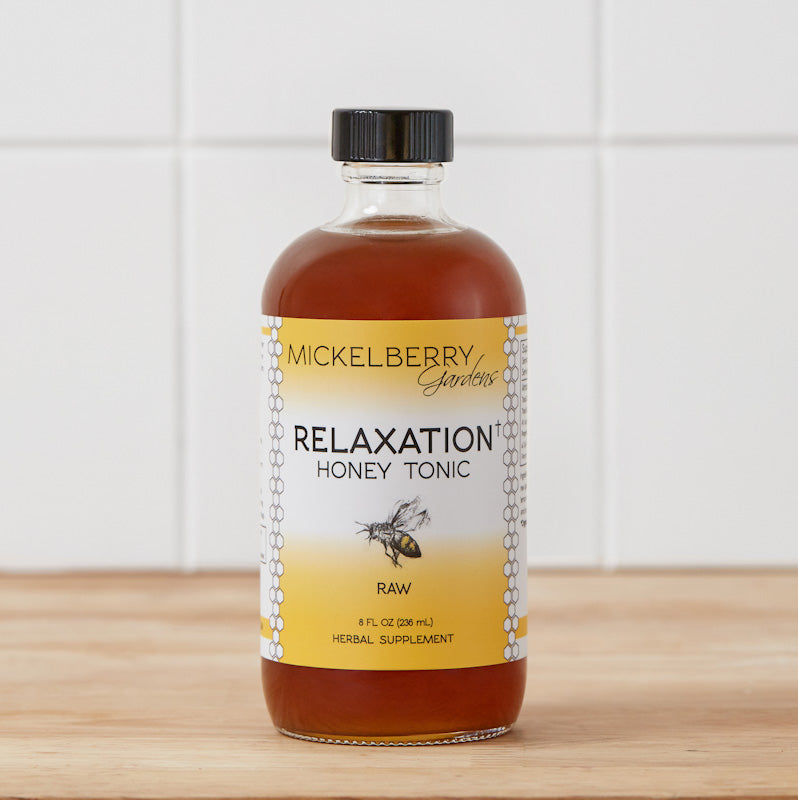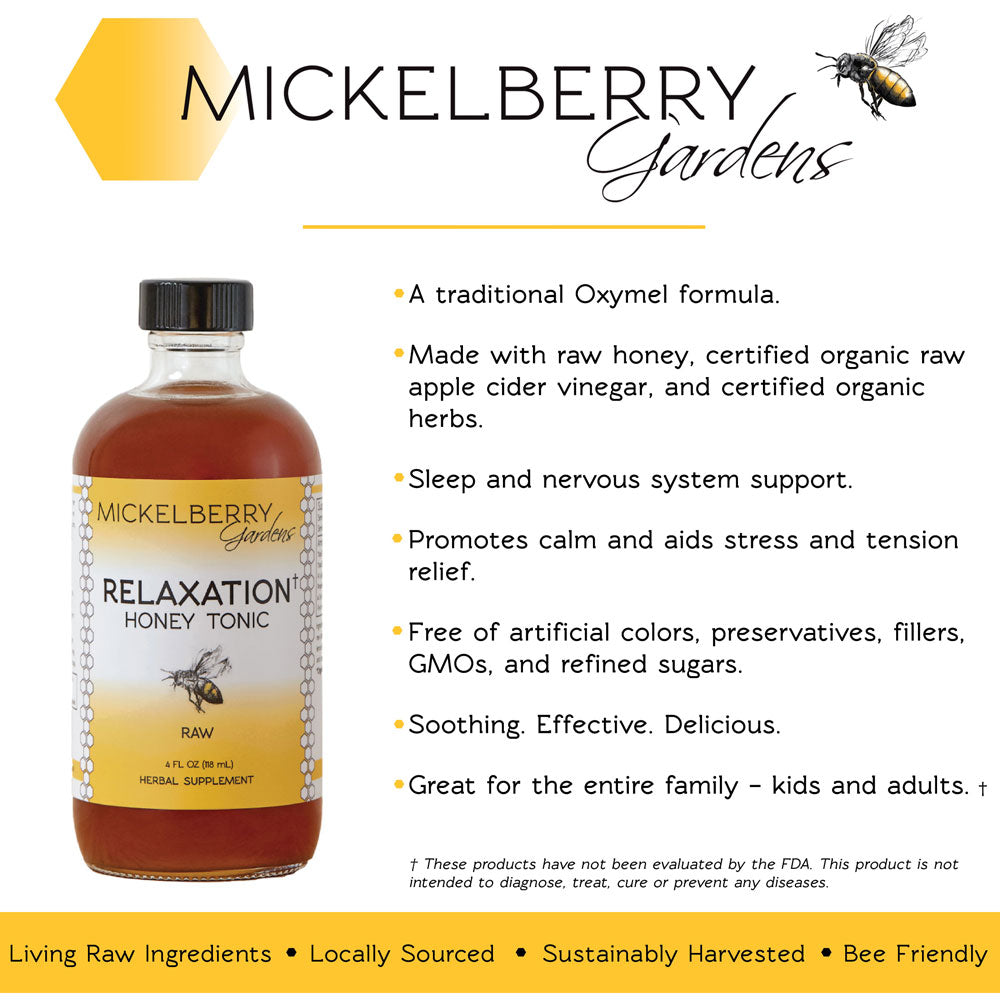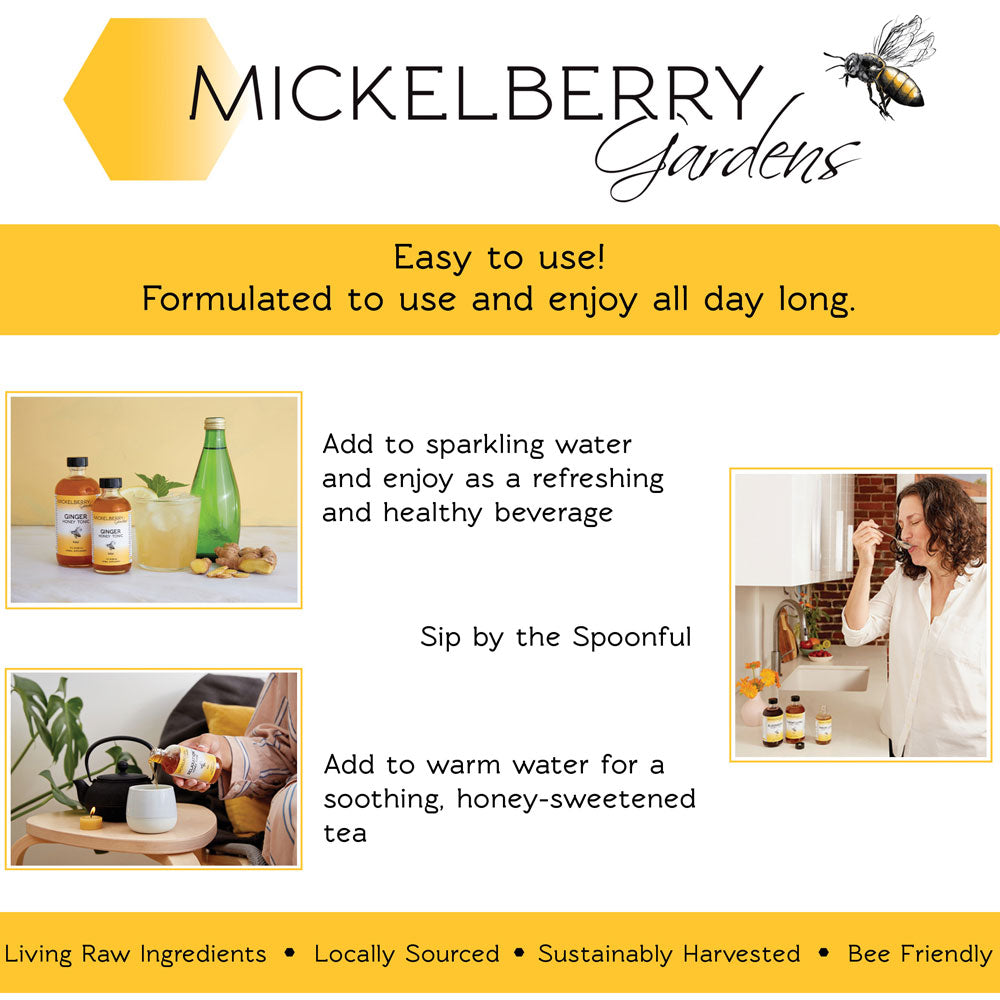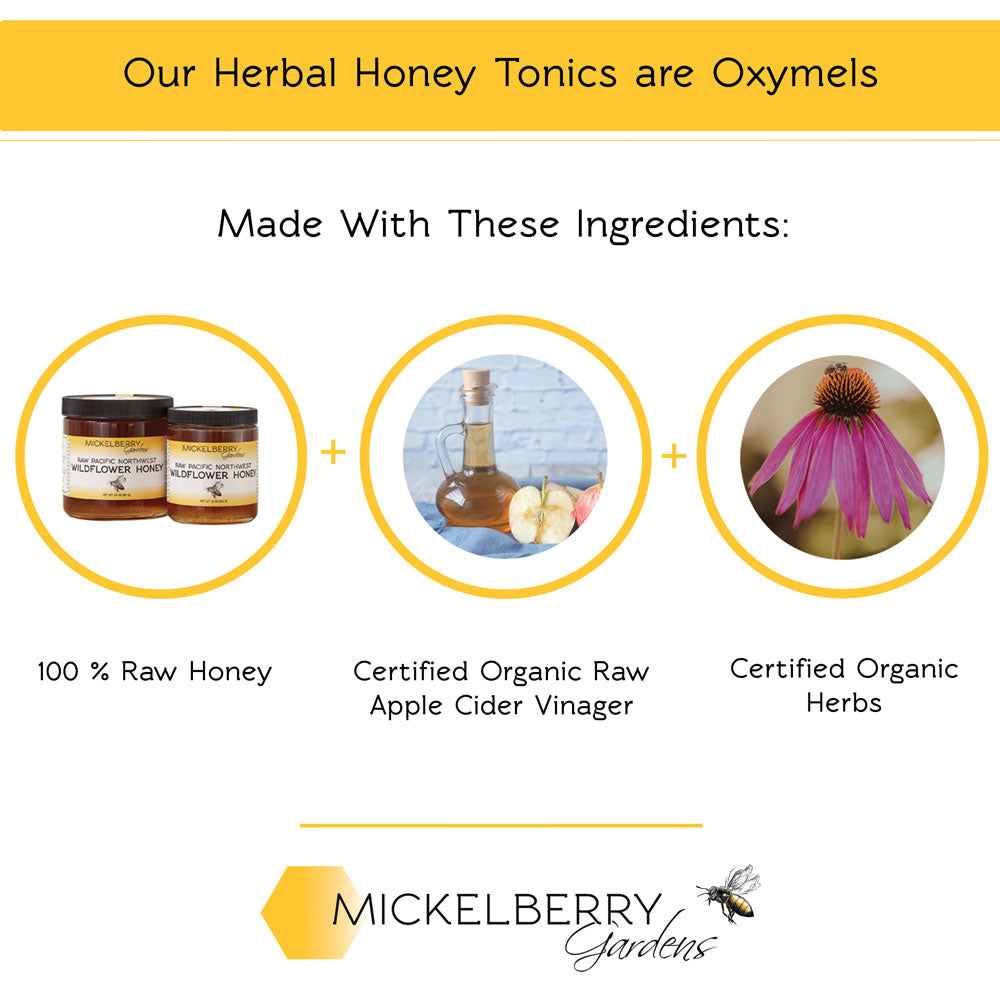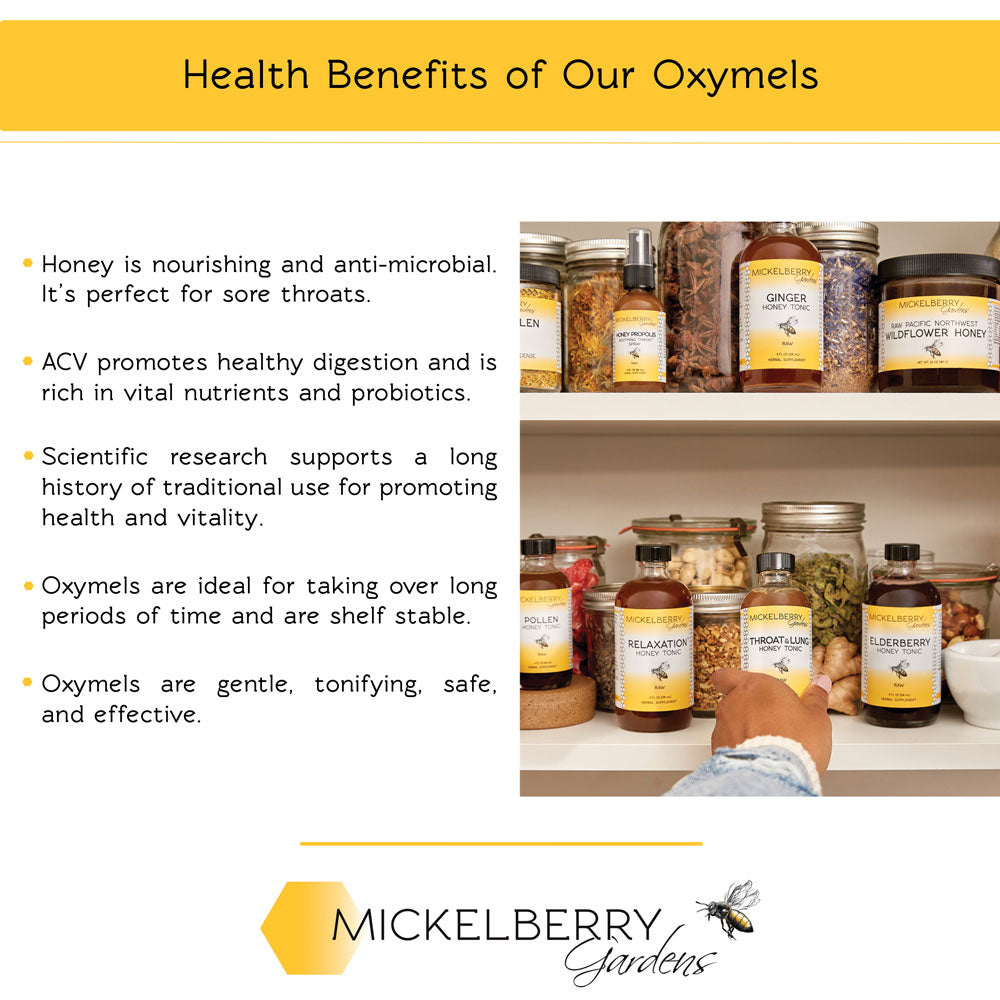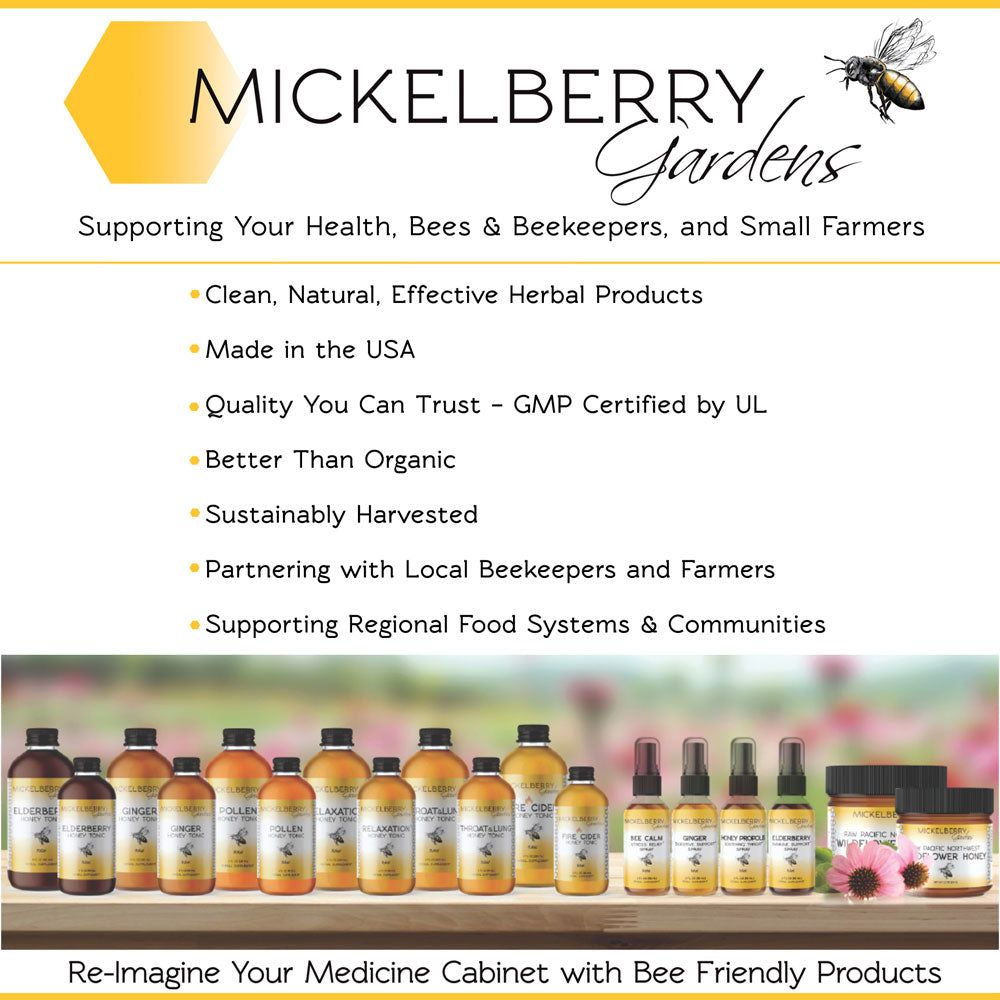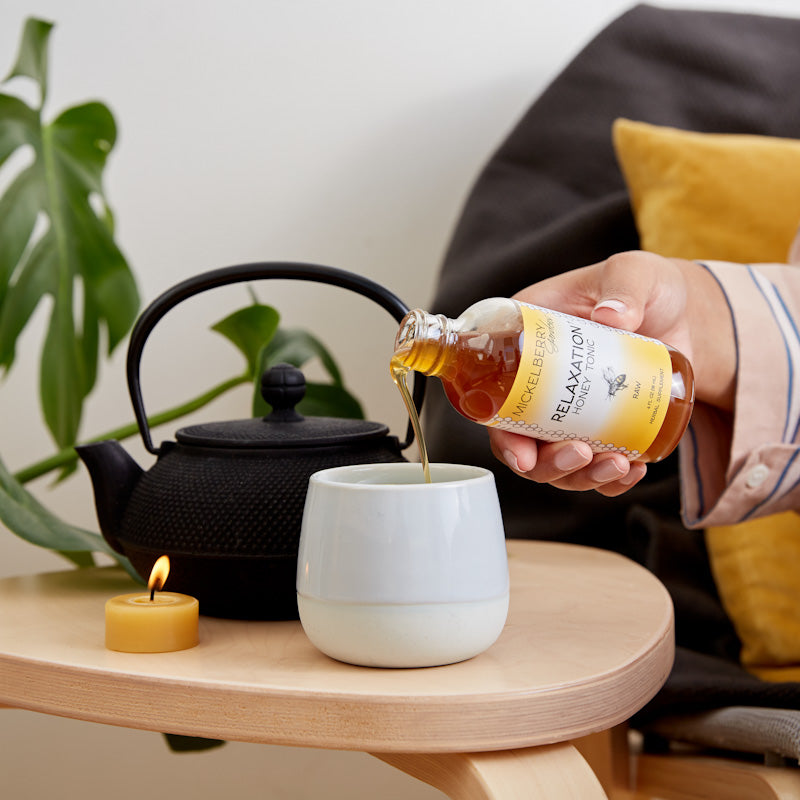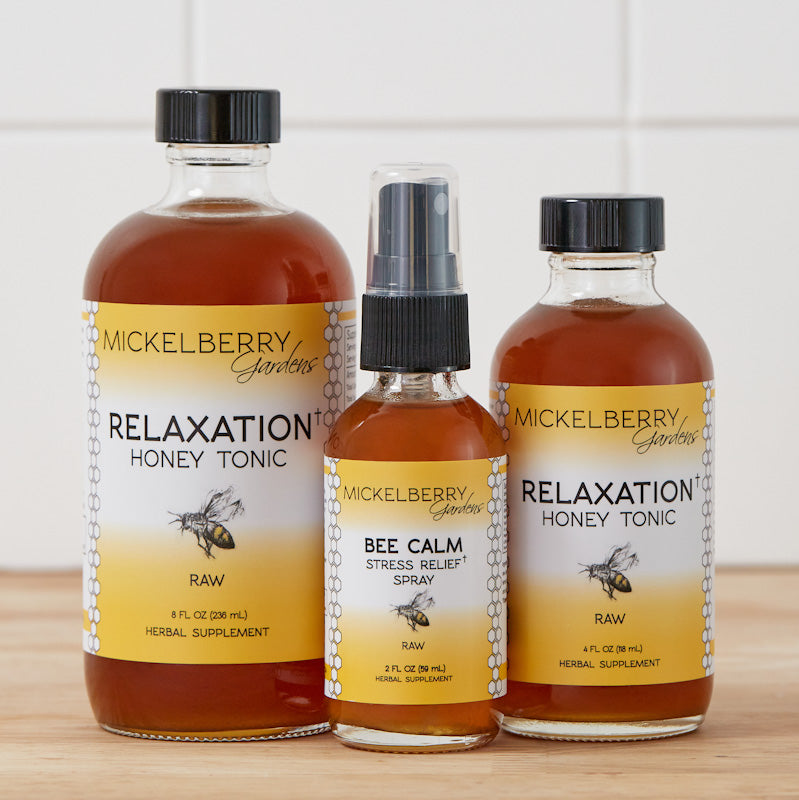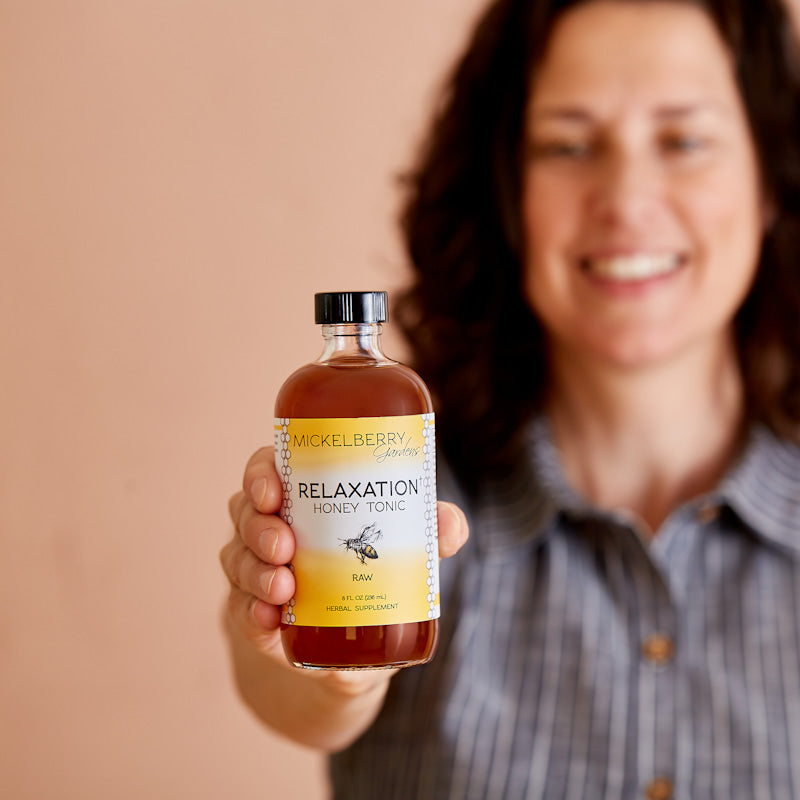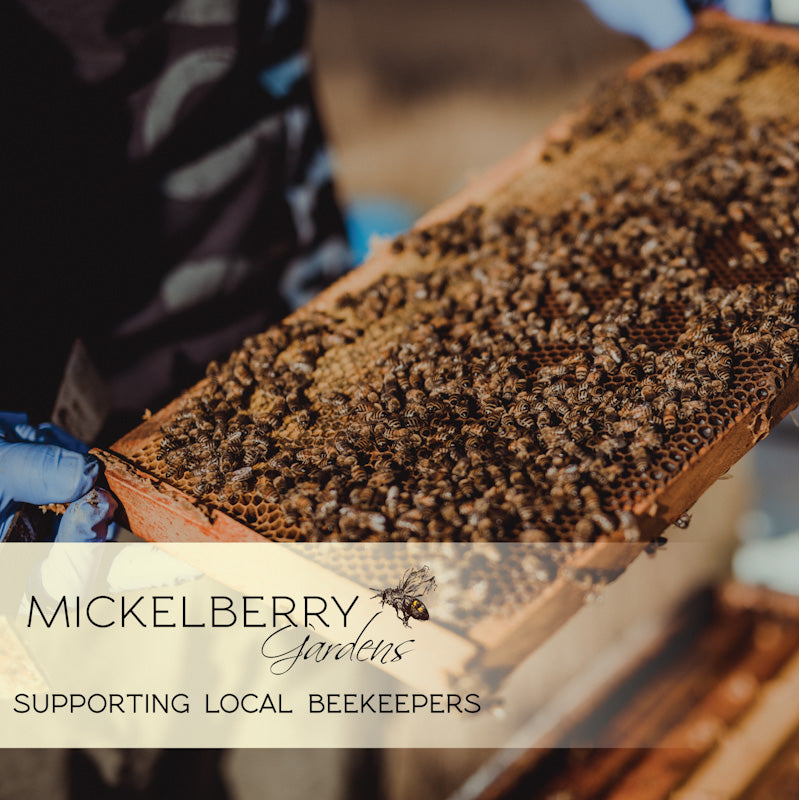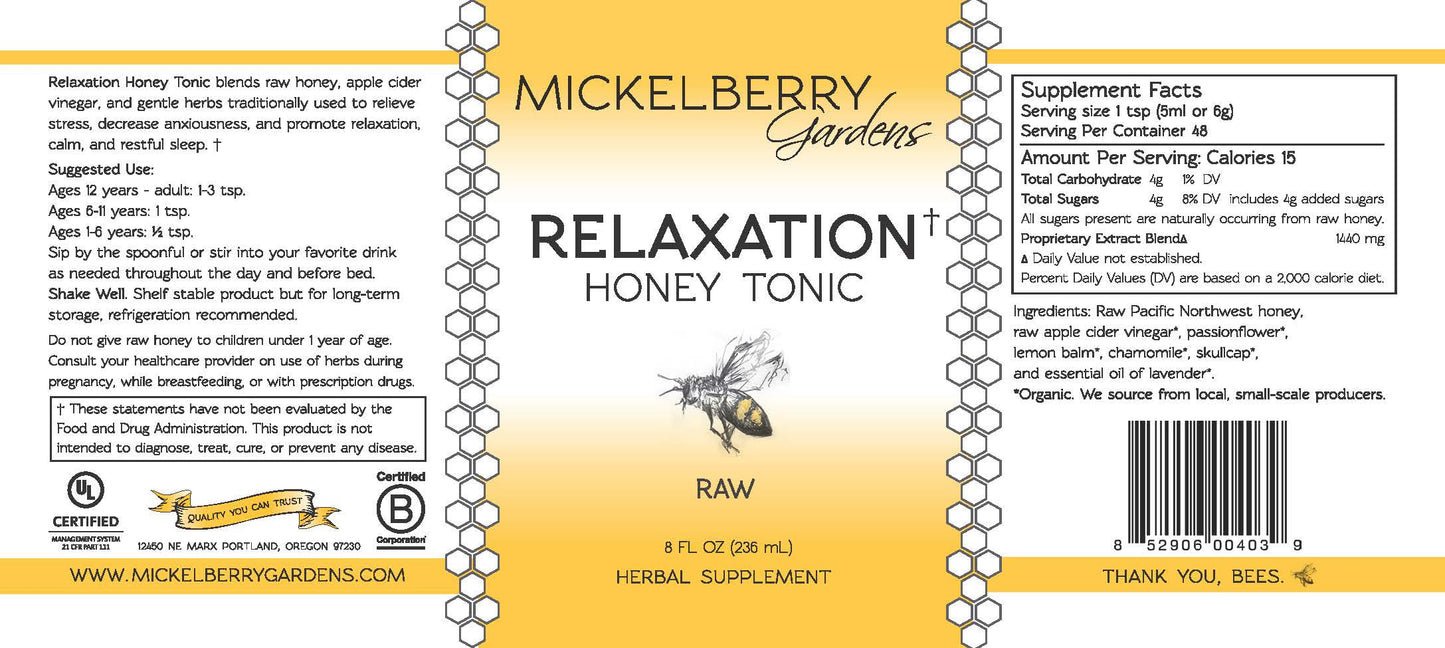 Not sure but I like it.
I like this tonic. I got it to help me get back to sleep if I wake up in the middle of the night and feel all wound-up. Not sure it helps—maybe but maybe not. I do like it though and will continue to try it.
Soothing Goodness
I have had terrific luck using this with another helpful herb for sleep - it works well.
Like all Mickelberry Gardens products it is top quality stuff!
very pleased.....
I was very pleased in trying the Mickelberry Relaxation Honey Tonic. It relaxed the process of digestion & stomach after I was done eating. I carry the small spray bottle in my purse to be able to use it at any time. I am so excited I was able to connect with this product!
My favorite Mickelberry product
As a repeat customer, I've used almost all of this company's products, and they're all excellent quality, but I think the Relaxation tonic is my favorite. I take a tablespoon in sparkling water before bedtime. Tasty and does what the name says: relaxation!